The Equifax Data Breach that compromised close to 100 million records resulted in a settlement; and those affected have a choice between free credit monitoring or a $125 payment. →
Cyber criminals are taking advantage of this breach have already developed a new scam. They are sending emails claiming to be Equifax and requesting personal information to "verify your eligibility" to receive the settlement.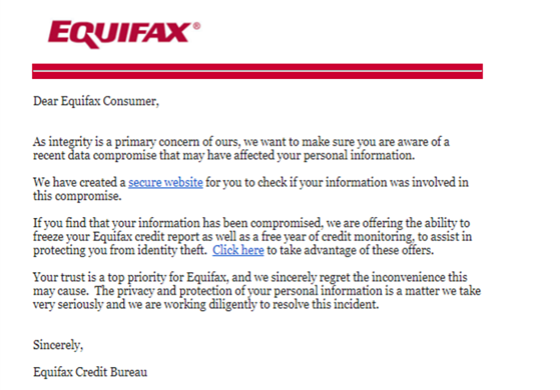 > Equifax Lost Personally Identifiable Information.
As you may have already heard, or read on our blog, the Equifax credit bureau has had a breach and close to 100 Million records have been leaked. This resulted in a settlement whereby Equifax is offering free credit monitoring OR up to $125 for their clients who may already be with a provider and paying for this service.
Thieves on the internet are never far behind an event like this, and sure enough, they've caught on! Petty thieves and organized crime alike are sending an email claiming to be Equifax, and requesting information to "verify your eligibility" to receive this $125. This is a picture of the email.
If you want to go straight to Equifax website where you can make your claim this is the link https://www.equifaxbreachsettlement.com/file-a-claim
Share this blog post with your friends, family and on your social media. Criminals do ruin real lives with offenses like this and our best defense is knowledge. Let everyone you know have this knowledge.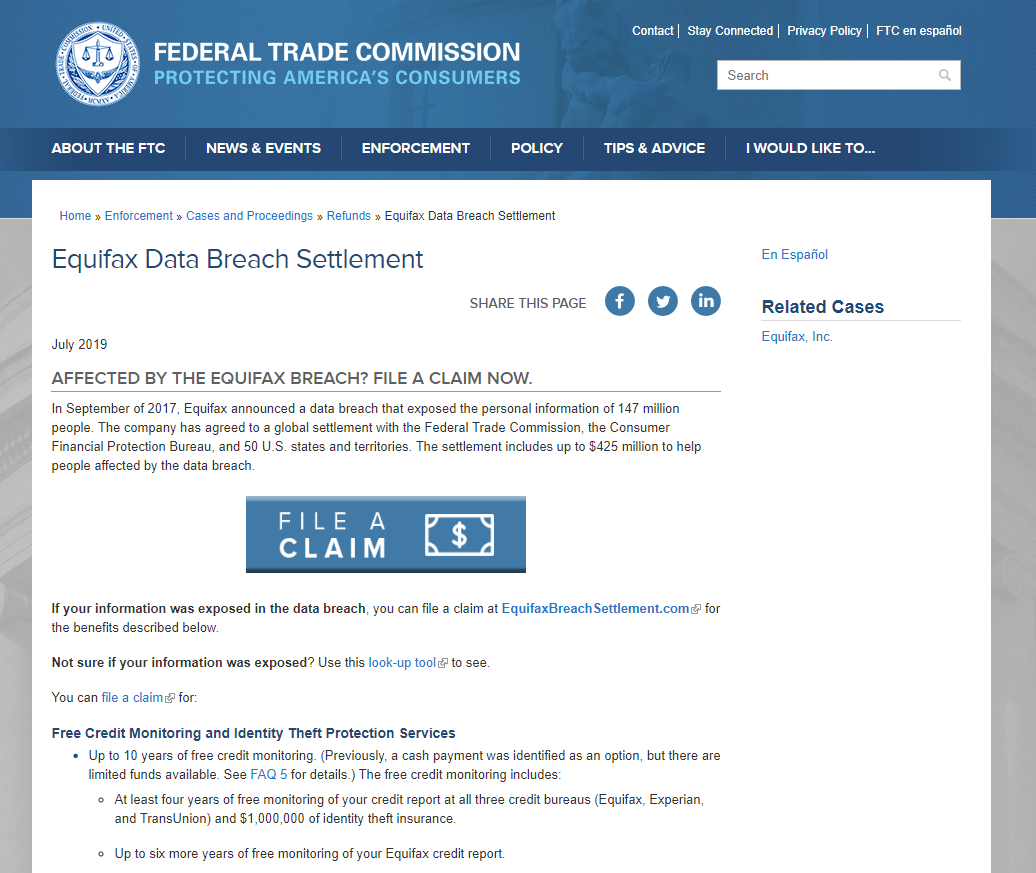 Users always need to stay alert and not enter any personal information on the sites they find fishy and should use a reliable security solution to remain safe.
But the best treatment remains prevention; learn how to read a URL and never click the wrong link again here on DIS Blog.
Contact DIS for a free network assessment with full documentation of our findings! Call us at 440.838.4111 or email us at info@discomputers.com
Clear Communication
We won't do geek speak - you'll understand exactly what we are doing with progress reports in between!
Quick Problem Solving
Our goal is to solve your technical issues as quickly as possible.Our employees are compensated to fix issues faster!
Technology Consulting
If it involves technology, we can advise you. From managing your technology vendors to consulting on your ERP/CRM.
Find out how we can help...